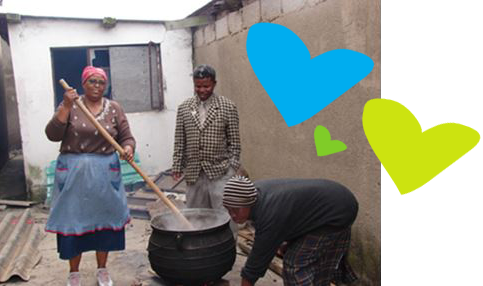 Our soup cell community project was established in 2006. We are gogos – grandmothers who have suffered in the HIV/AIDS pandemic.
We have watched our children die of AIDS and now take care of our grandchildren with the aid of our government pension. We have hope for our grandchildren and our community, and seek to serve our community by doing good.
We serve the community a nutritious soup twice a week and offer the community hope through our bible study and prayer groups.
We also assist the community with HIV/AIDS counselling and give much advice and support to those in our communities who have TB. We help people to start food gardens and also assist community members with various grant applications, such as foster care grants and child support grants.
We are busy ladies who all serve in our local churches and take good care of our families. We love to pray and help people.
Our community is particularly poor and we have a big informal settlement which is nearby. This is a very impoverished area with no running water or flushing toilets.
Many of the people in our community suffer with hopelessness because of poverty and HIV/AIDS. Our bible study groups help people to regain hope through the power of the scriptures. We love to sing pray and read God's Word together. The community loves our soup which make us glad.