Mtutuzeli Beyi, the Soup Cell co-ordinator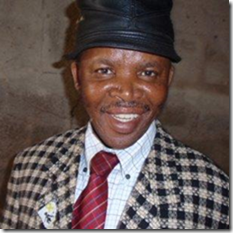 I am the leader of all of the soup cells and a Julian's children support worker. I coordinate meetings for all of the soup cell leaders every two weeks, visit all of the soup cells weekly and oversee the delivery of the soup. The soup cells are a place where the community can come together to be strengthened.
The soup cells are run by the Mamas and supported by The GoGo Trust. The Mamas wanted to be a resource in their communities to help children who were orphans and those on ART for HIV. The soup cells are a place of hope, togetherness strengthening and of good nutritious food.
We currently have 9 soup cells which run every day of the week in the township communities. I am also a Julian's Children Support Worker. I visit the 5 families currently supported by Julian's Children and purchase and deliver all of the groceries to them monthly.
I really like helping people who are very poor and relieving people in their distress. The soup cells and Julian's children bring such hope to our communities.